Send Money to a Phone Number
Send money to anyone, even to those who don't have an account with any bank. All you need is their mobile phone number, e-mail address and first and last name.
You don't have to worry about when and how you will send money to family and friends - even if they don't have an account with any bank.
The m-banking application has a new P2P service for transferring funds at any time.
All you need is the first name, last name, phone number and e-mail address of the recipient and the money will reach them in few simple steps:

Within the main menu of your m-bank application, access the P2P money transfer option.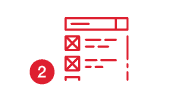 Enter the recipient's first and last name, telephone number and e-mail address, as well as the amount you wish to send in the appropriate fields. Then enter details of the card from which you are making a transaction. You have now registered the card and it is remembered for each subsequent transaction (you can change which card you want the transaction to be made from at any time).

The e-mail contains a link that leads the recipient to the page where they can choose their preferred method of receiving the payment:
Payment to Mastercard – when this option is selected, a window opens where the recipient of the funds enters the information about the card.
Payment to current account – after selecting this option, the field opens where the recipient can enter information about the number of the account to which the payment is made.
Withdrawal OTP Bank ATM – the recipient receives an SMS with a one-time password which they enter at any OTP ATM machine.
What's good to know:
Functionality is available to all users of our m-bank application regardless of the phone operating system
Option available 24h/7 days a week
There is no cost for making a P2P transaction
The recipient of funds is not required to have an account with any bank. They just need a mobile phone and an e-mail address
Do you have any additional questions?
Write to us via our online contact form and we will contact you.
Fill in the form fields
Hvala što ste poslali upit naša
sluzba ce vas uskoro kontaktirati.