Tehnicke inovacije
Interview Nemanja Majdov
THE COIN THAT BROUGH HAPPINESS The COIN that was tossed in the air of their boy's room spun at high speed. After two seconds it fell on the floor. "Heads", said Ljubiša. "It's going to be Nemanja", father's voice said. The decisive life moment of the judo world champion, who just a few days ago […]
THE COIN THAT BROUGH HAPPINESS
The COIN that was tossed in the air of their boy's room spun at high speed. After two seconds it fell on the floor. "Heads", said Ljubiša. "It's going to be Nemanja", father's voice said.
The decisive life moment of the judo world champion, who just a few days ago won the silver medal at the European Championships in Prague, happened in 2010 when the Majdovs decided which son would continue with a professional judo career. Nemanja and Stefan were extraordinary on the tatami, both top talents, they already had the reputation of being future champions, but the lack of financial resources at home resulted in making a decision. This was not easy for the family, but it turned out that fate dealt them the right cards. From the beginning everybody knew their part.
"My success is one family project. I'm just a guy who goes out on the field and plays with already received cards. My father is a coach, my mother has always been the pillar of our house, and always brought us together, me, my father and brother. She has always made balance among everything, between sport and life. Mom's role was here extremely large. The three of us know that she is the most important on that whole journey. At the beginning, my older brother Stefan was even better than me, but in that breakthrough, due to finances, we had to choose between him and me. If my brother had been chosen instead of me, he might have been an even greater champion. However, the assessment was that it would be better to have two more years for progress, and, unfortunately, we did not have finances for the both of us, "says Majdov. Nemanja was born on 10 August 1996 in East Sarajevo, and three years ago he became the judo world champion, the first Serb to succeed in this. A year later, he won the silver medal at the European Championships, thus continuing the tradition of winning medals from the biggest competitions. Even as a junior, he became a two-time champion of the Old Continent (2014 and 2016).
It all started quite by accident in 2003. At least for those who believe in chance..
"When I was six, I went to my first training session at the age of seven. Two coaches founded the club and asked me and my brother if we wanted to train judo. I already knew half of the moves, because my dad taught us as children to know how to hit, to know how to knock down an opponent, but he didn't tell us what sport it was. Dad was a policeman, an inspector, so as a child we were a bit into the police. Therefore, during training when the coach explained certain moves, we already knew them. That's how I realized that I had become familiar with judo much earlier, when I was maybe three or four years old."
MOM'S KITCHEN
The diet regime of a judo world champion is not spartanly strict, as one might think .
"You just need to know what to eat and what not. I try to get enough protein after training, enough carbohydrates before training, but I don't care if I can't eat pancakes, pizza, or drink Coca-Cola or beer. One should not exaggerate, but a glass of Coca-Cola will not reduce our performance. The food is mostly my mom's kitchen, it's been that way since I was little. I always had perfect results at all examinations".
Little by little, the love for sports grew, although in the first two years Nemanja was not so successful.
"I was talented, I was extremely good, but I was always a middleweight category. There were a lot of children, huge competition. I did not manage to win a medal for the first two years, and some coaches said that my brother was the worst. Then dad brought us home and asked if we wanted to be champions or not. If you want, if you want to dedicate your whole life to this, tell me, if you want to train for yourself and that's it, all right, he told us. He gave us five minutes to decide, but that meant listening to him for the rest of his life when it came to sports. There is no rethinking, no puberty as an excuse, no girls, no birthdays, whatever happens you made a promise and that's it. He told us to think for five minutes, and without thinking, within 15 seconds, we said – yes. So my older brother and I started judo seriously together, and my dad Ljubiša became our coach all his life".
The road to victories, in addition to the family agreement and discipline, paved the way for Nemanja and his champion character.
.
"I wanted to be the best since I was little. Even when I was losing at the beginning, I always said the night before that I would break them tomorrow, and then I would lose. The following weekend again the same, and again in the evening I would say to my mom and dad that tomorrow I would beat them all. I was always optimistic. My goal from an early age was to be the best in the world. When that would come, in two, three, five, fifteen or twenty years, it didn't matter to me. But I knew that, God willing, I would become the best. I never liked to lose, whatever I did. I used to play "Ludo", until I won. I simply wanted to be a champion in all spheres. As for my schooling, I was the best student of the generation in elementary and high school, and I finished college as the best student. I enrolled in master's studies, I also finished with an average 10.0. I think in life you can be the best at anything you do, all just depending on how hard you work and commit to that goal, and how much you're really willing to give up some things to achieve your goal".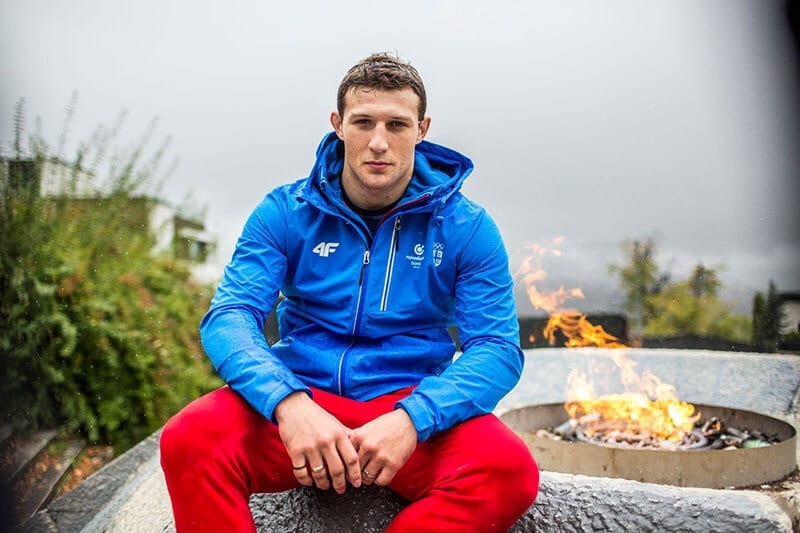 The path to success wasn't easy at all. There were ups and downs, which is a normal thing in sports, but injuries were the worst which Majdov suffered greatly.
"I had knee surgery four times and I am only 24 years old. The knee consists of four ligaments, the anterior cruciate ligament broke twice, the posterior cruciate three times, the medial collateral three times and the lateral once. Which is an impossible variant, any sports doctor would ask how I am walking in general and do sports, and especially wrestling with people. Unfortunately, the injuries started early and I had doubts about what to do and how, but at no point did I think of giving up. Not even the first time I got injured in 2015, when nine out of ten doctors told me I had finished my career. We toured the entire former Yugoslavia. Because ligaments break and people end their careers. In that first injury, three of my four ligaments ruptured. So my leg was halved, it didn't stand on the ligaments at all".
Looking for a solution he found Doctor Aleksandar Jakovljević who is in his team even today.
"The doctor told me it was hard, but that we would fix it. In those words. I don't know how, but we'll fix it, he explained. It meant something to me because he was the only optimistic doctor, and someone who truly wanted to help me. His greatness is that he did not say for a second that he knew everything best, but sent my issue to ten addresses, to all his friends in America, Russia and Germany. He said that no matter how good a doctor he was, he was not competent to determine the fate of such an athlete. He listened to the opinions of all ten doctors and what the majority agrees on, that's how we will work. That's how it really was. I began my recovery. That recovery lasted a year. I came back of course, but I never thought of giving up. My family and I dedicated ourselves to one goal and whatever obstacles we went through only strengthened us, and it made us want to climb to the top of the world. I think that is the charm of everything, because we started from nothing, in fact from scratch, maybe even from a minus, so to speak. We took a step forward, two steps forward, one step back, but we persevered to the end".
FIGHT ON ONE LEG
It is an interesting anecdote when Nemanja got injured at the European Games in Minsk, but then, almost with one leg, two months later in Tokyo at the World Cup, he managed to win a bronze medal. "It is, they say, a sports phenomenon. I think it is a product of God's will. I injured my right knee then, which I had operated on three occasions before. I thought it might even be the end of my career because I knew I must never hurt that knee again, but I managed. Then I just worked on my hands, I didn't use my legs at all and I succeeded. At the age of 23, I managed to enter the top three judoists on the planet".
In addition to the strength of character, dedication is another of Nemanja's qualities that always pushed him towards sporting heights.
"I have always been very committed, both in the beginning and today. I even celebrated four or five New Years in the gym, training with my father. I didn't want to celebrate at all, not because I'm not that type, but I knew it would make a difference in my process in the outcome of the match. The difference is in the psychological aspect, because literally the world's top is determined only by the psychology of the fighters. We have serious trainings every day, but on that day I know that 99 percent of people celebrate, while I train with the desire to make that difference in my head. When I stand in front of an opponent, I know I worked out that day, and he didn't. Literally, my psychological aspect will be a little above his, and that will be decisive in the match. I did that until I became world champion and it paid off in the end. Majdov was brought up to remain modest, to be grateful for everything that life brings him, to fight for himself, but also to help others whenever he has the opportunity to do so, and every lesson is interwoven with faith in God.
""I try to be as big a believer as possible, as much as I can in today's circumstances. I think that is the meaning of life and that every result of me and my family is a product of faith because God has given us a lot of blessings to do what we did, to write the history of the Serbian people and Serbian sports. Last year I won my first Grand Slam, and the night before I saw on Facebook, on the profile of my judoist friend, that he needed help. He discovered that his one-year-old daughter had a problem, it was leukaemia. Then I prayed to God to give me strength, because I decided that tomorrow, if I win, I will give them the entire prize. I didn't tell anyone, not even my father, because I didn't know if I would win. I even downloaded a picture of that little baby on my phone, so that before every match I could remember that I am not only fighting for sports but also for a human life. Thank God, all the matches were on the day of St. Basil of Ostrog, so I was guarded by him for sure, and I knew that I would have grace from God. We gave money from the prize for the treatment of that girl, but we didn't's want it to go public. I even called my friend that evening, told him that I had won the Grand Slam and that I would pass the award on to him. However, when I went to that show, the host was talking about my help to little Lena. I looked at that friend of mine and he said he had to tell. That was the first time I talked about it. That turned out well, because then Serbia, Croatia and Montenegro started to get involved in the action. People from Macedonia and Slovenia also participated and the money was collected in three days".
Due to the coronal virus pandemic, the Olympic Games had to be postponed, which disrupted all athletes, including Majdov, who has the greatest ambitions in Tokyo.
"Last year I decided to give full throttle for the Olympics and I was in great shape. Out of nine world tournaments, I did the final blocks in eight, which is unprecedented in all categories. I was at the peak of my form when they announced that the Games had been postponed. I look at it from a more positive side and I am not thinking that the Games should have been this year at all, but I have a vision that they should be in 2021. I look at it positively and I think I will be 100 percent myself then.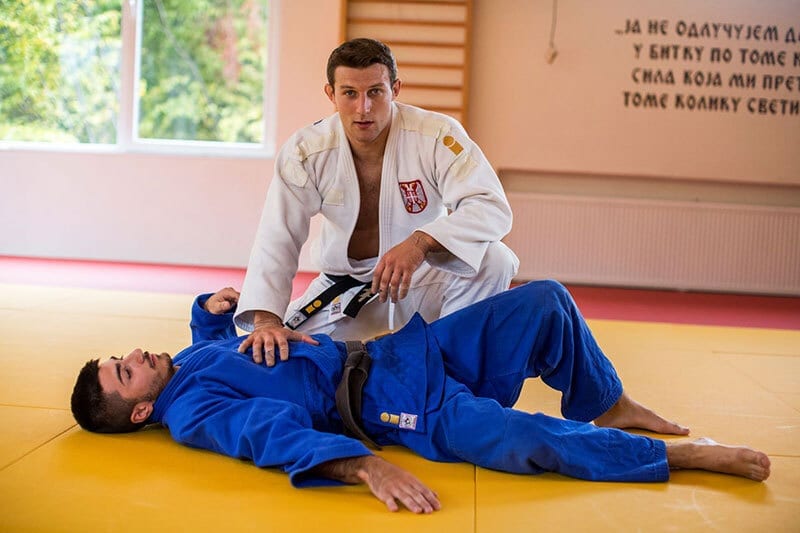 It will be the first Games where Majdov will wear a kimono with the Serbian flag and Olympic circles.
"I have never competed in any of the big Olympic Games. In 2016, I was a junior, only in 2017 was I a senior and I immediately became the world champion in that category. I became one of the youngest world champions ever in judo, at the age of 21. My first Olympic Games will be in Tokyo, and I competed in the Youth Olympic Games. That is when I won a silver medal.
RECOGNITIONS FOR THE BEST ARE CONTINUING
MAJDOV was declared the best young athlete in Serbia by the Olympic Committee
"It was a really big wind in my back next to so many young, talented people. A great honour and privilege. And in 2017, I received a special award from the Olympic Committee. In 2013, my brother and I moved to the Red Star club – since then, finances and plans have been resolved, and that was one of the key moments in my career, so that we could continue to the top of the world. I owe a great deal of gratitude to the entire team led by Ivan Todorov. In 2018 and 2019, I was the best athlete in Belgrade, Republic of Srpska and the Red Star sports association. That year, my father also received the award for Best Coach, and I received the award for the best athlete from the Red Star".
OTP bank is a proud member of the Olympic family in Serbia, which has recorded an interesting video with our judoist in the previous days.
"I had a great time shooting the commercial, I liked the part. It's all very interesting to me, who knows, maybe one day I'll try myself in the role of an actor. I think that champions in their business, in the sphere of finance, go with champions in sports. The right people have met with the right people and that can only result in a gold medal, a title. Nowadays, there are a lot of banks, they all offer something of their own, but the first thing I think of when it comes to Vojvođanska banka is that it is related to sports and Olympism, it supports the Olympic Committee and athletes who want to succeed and represent their country. It's great that there is someone to push those people, and to give them a hand when they need it".
During filming for OTP bank, Nemanja worked with one of our best actors, Miloš Biković, who was the creative director on the set.
"Miloš is very professional. We became really good friends in a short period of time, because we recognized in each other some healthy values of life. I think that what he will do will surpass successes of everyone else. I am glad to know him, and I respect the fact that he is a good man".
At the end of the conversation, Majdov revealed that he is happy and fulfilled today, that he has achieved most of the things he dreamed of, but that dreams still guide him. "I became a world champion and fulfilled my dream a little before I planned and a little before everyone expected. A year after that, I had a problem finding motivation, because I reached the top, and what now? Then things levelled off a bit and I started over. And in a hundred years, everyone will know that I was a world champion. The first Serb ever to win a world medal in this sport. Next I want to make my people as proud as possible. My goal is to show my talent in the world and to pass it on to my children tomorrow", Nemanja concludes.
0 comments